VA Loan FAQs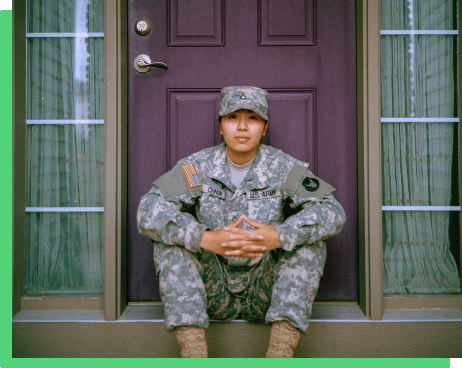 A VA loan is a popular option for active duty service members, veterans, and their families who are looking to buy a home. If you're interested in getting a VA home loan, the team here at Supreme Lending can answer your questions. In this guide, we'll answer some of the most commonly asked questions regarding VA loans. You can also contact us at any time to ask specific questions about your situation.
VA Loan Frequently Asked Questions
Get answers to your VA loan questions below:
What is a VA Loan?
A VA loan is a government-backed loan intended for active duty service members, veterans, and their families. VA loans make it easy to buy a home in several ways, such as removing down payment requirements and offering lower interest rates.
What Is the VA Loan Limit?
There is no limit on VA loans. However, if the price of the home you want to buy is above the limit set for your county, the lender may require a down payment. In addition, if you're looking to refinance a loan, you may need additional equity to do so, depending on the size of the loan.
Do I Need to Pay Mortgage Insurance With a VA Loan?
You don't need mortgage insurance when you use a VA loan. This is because VA loans are backed by the U.S. government, meaning the lender has more protection. VA loans allow you to buy a home with no monthly mortgage insurance premiums and no equity.
What Is the Minimum Income Requirement for VA Loans?
There is no minimum income requirement for a VA loan. However, the lender will look at your debt-to-income ratio (DTI). Your DTI is a measure of your monthly debts compared to your monthly income. The lender will take your monthly debt and divide it by your gross monthly income to determine your DTI. In addition to your DTI, lenders will also look at your residual income, or the amount of income you have left each month after paying off all your expenses. The amount of residual income you need varies depending on your location and family size.
What Documents Do I Need?
To apply for a VA loan, you will need a few documents. These documents include:
Two years of tax returns.

Two recent pay stubs.

Discharge papers (if applicable).

Certificate of Eligibility.

A copy of your driver's license.

Form 26-1880 and Form DD-214.
For more information about any of these documents, please talk to a local VA lending provider.
How Many Times Can I Use My VA Loan Benefits?
You can use your VA loan benefits as many times as you'd like. As long as you have money available in your entitlement, or have paid off previous VA loans, you can continue to use your VA benefits.
Learn More About VA Loans Today
If you're interested in getting a VA loan, or if you have more questions about how they work, please contact Supreme Lending DFW. We've helped many local residents use their VA benefits to secure reasonable VA loan rates and we want to help you too.